Mexico City, Mexico — Mexican President Andrés Manuel López Obrador issued a decree to speed up nationalization of the country's lithium reserves on Saturday and also teased a possible partnership with Tesla founder Elon Musk. 
In 2022, Mexico's Congress fast-tracked a bill that nationalized lithium. López Obrador's presidential decree is meant to speed up that process by handing over control of lithium reserves to Mexico's Ministry of Energy.
The decree also declared that 234,855 hectares rich in lithium in the northwestern Sonoran desert are now considered mining property owned by the state and managed by the Ministry of Energy.
At a press conference in the state of Sonora, López Obrador celebrated the nationalization of the strategic mineral reserve, an integral part of Plan Sonora, a project that seeks to develop renewable energies, such as solar energy in Mexico's northwest region, and to begin exploiting and developing the abundant lithium in the area, specifically to be used in batteries for the automobile industry, via a public company.
"What we are doing now … is to nationalize lithium so that it cannot be exploited by foreigners, neither from Russia, China, nor the United States. Oil and lithium belong to the nation. They belong to the people of Mexico, to you, to all those who live in this region of Sonora, to all Mexicans," said López Obrador.
According to the U.S. Geological Survey, Mexico ranks ninth in global lithium reserves, amassing 1.7 million tons of the mineral that's used in everything from electric vehicles, to laptops and cell phones.
On February 17, the president inaugurated a photovoltaic power plant in Puerto Peñasco, Sonora, a solar plant managed by Mexico's Federal Commission of Electricity (CFE).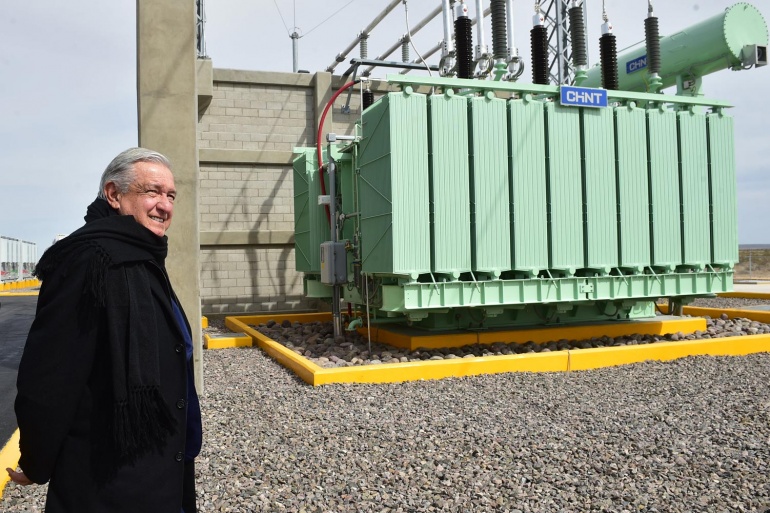 AMLO and Elon Musk
With an initial investment of USD $497.7 million, the project covers 2,000 hectares with solar panels. According to Lopez Obrador, the solar plant will provide energy to 64,000 homes in Puerto Peñasco. It is expected that upon completion, the plant will supply power to up to 300,000 homes.
During the press conference, Minister of Economy Raquel Buenrostro said that Mexico's efforts in renewable energies would translate into significant private investment, which the government is keen to attract to exploit the vast lithium reserves in Mexico.
One of the possible investors for the Mexican lithium project is the leader of Space X and Tesla, Elon Musk, who, according to Foreign Minister Marcelo Ebrard, will soon hold a call with the Mexican López Obrador. 
The president confirmed the future call with Musk, saying his government will talk with all investors and countries interested in investing in Mexico.
"Yes, with all the businessmen who want to invest in Mexico, we are willing to talk and provide facilities for companies to set up and create jobs. Just do not pollute, do not consume water in excess, because we do not have more for the people," he said.
Last week López Obrador confirmed that Tesla is looking to open a production plant in Mexico. The construction location remains undecided, with the government still pondering between the northern state of Nuevo León or Hidalgo in Central Mexico. López Obrador has favored the latter due to its proximity to one of his signature projects, The International Airport of Felipe Angeles, as well as concerns with the frequent droughts in Nuevo León.
"This is very good news. We are grateful to this company for deciding to settle in our country. Mexico is one of the countries, if not the first place, that is among the three countries with the most opportunities for foreign investment and for the creation of companies," he said at a press conference on February 20.