Mexico City, Mexico — The Organization for Economic Co-operation and Development (OECD) presented its 2023 report on structural reforms, showcasing the inequality, poverty, and economic growth in Mexico, which presented poverty rates greater than the 38 OECD member countries.
According to the report, Mexico reported a poverty gap index of 34.2, greater than the median rate of 28.7, averaged by the rest of the countries in the organization. Amongst the poorest economies, Mexico only traces behind countries such as Costa Rica and Romania which reported poverty indices of 37 and 38.1 respectively.
Regarding inequality, Mexico's Gini coefficient, an index used to assess the level of income distribution in a given economy and set from 0 to 100, amounted to 42, 10 points greater than the median of the OECD. 
"Mexico has one of the highest levels of poverty and income inequality in the OECD, which calls for continued efforts and strengthening of social protection, notably to make it more efficient and responsive to economic cycles, reduce gender gaps and improve education," read the report.
Like the rest of the world, Mexico was heavily impacted by the COVID-19 pandemic, which stagnated its economic acceleration, exacerbating longstanding economic and social problems.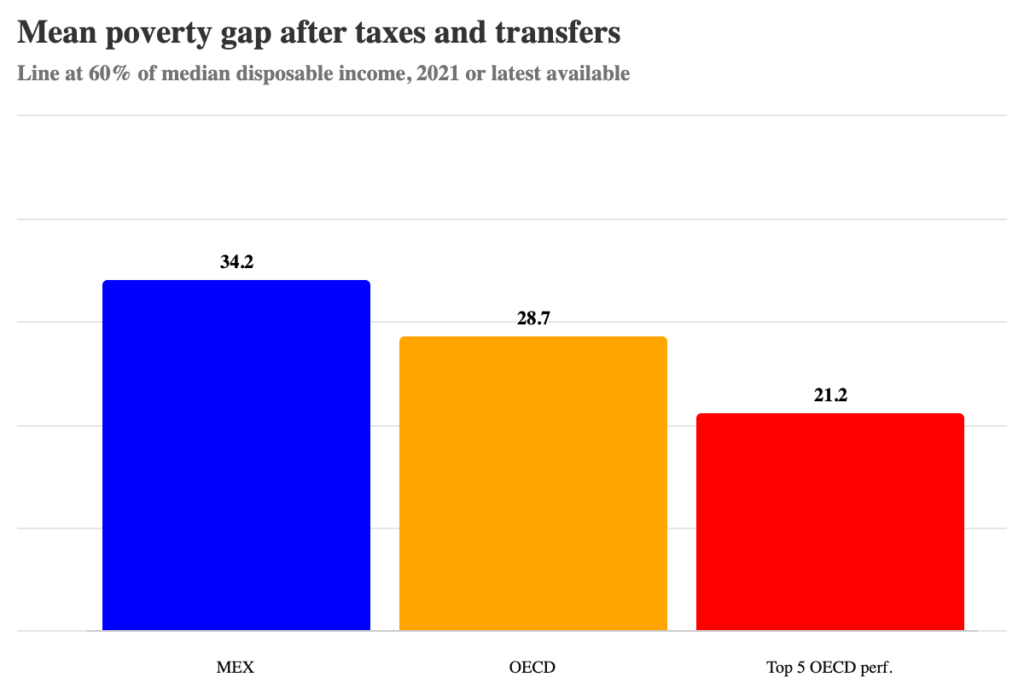 However, figures reported by the OECD did shed a positive light on Mexican labor markets and income. As reported by the OECD, unemployment levels in the country are at a historic low, with real wages and formal employment reporting an increase.
Nevertheless, the organization also pointed out that a majority of the Mexican workforce remains in a state of informality, accounting for 55% of workers, which fuels low productivity in economic activity.
Production levels and machinery investment have also been favored by the recent approach of the Mexican government towards nearshoring, which has allocated massive interest from foreign investors into the Mexican economy.
Mexican President Andres Manuel López Obrador's megaprojects, such as the Maya Train and the Interoceanic Corridor in the south, have created a niche for foreign investment, particularly companies looking to relocate their businesses in Asia to the Americas.
According to the Secretary of Economy, Foreign Investment in the country in the first six months of 2023 amounted to over USD $29 billion, the highest figure since 1999.
In August, the National Council for the Evaluation of Social Development Policy (CONEVAL) reported that from 2016 to 2022, 5.4 million Mexicans have risen above poverty lines due to more significant social expenditure and wage increases in recent years.
However, the OECD report may indicate that despite a promising industry outlook and future investment and economic policy directed to help Mexico's poorest, the needs of the country's most vulnerable are greater than what the government can currently provide.